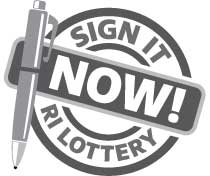 Sign the back of the ticket upon purchase for security. All winning tickets are payable to the bearer of the ticket upon verification of their identification and signature. The Rhode Island Lottery and Lottery Retailers are not responsible for lost or stolen tickets or those incorrectly issued that were not reported to the Retailer immediately after purchase.
Prizes less than $600 can be claimed at any Rhode Island Lottery Retailer. Prizes of $600 and above must be claimed at Lottery Headquarters, 1425 Pontiac Ave., Cranston, Rhode Island 02920. All prizes must be claimed within 1 year of the drawing date. Instant Games prizes must be claimed within 1 year of the announced end of game.
Mega Millions and Powerball jackpot winners can decide on cash or annuity payment within 60 days after becoming entitled to the prize. The annuitized prize shall be paid in 30 graduated annual installments.
Winners of the Lucky for Life top prize of $1,000 a day for life and second prize of $25,000 a year for life can decide to collect the prize for a minimum of 20 years or take a lump sum cash payment.
Mail-In Validations Process

In order to redeem a Rhode Island Lottery prize by mail, holders of winning tickets must provide the following documents/information:
The winning ticket with your signature on back of ticket,
Copy of valid, government-issued photo I.D.; and
Copy of Social Security Card or valid document that includes your Social Security Number.
If you do not have a copy of your Social Security Card or a document that includes your Social Security Number, you must complete and sign an IRS W-9 Form. This form is available here, or the Lottery can mail this form to you to complete and return.
Prize checks will be mailed to the address provided. Please be sure to print legibly and to provide a telephone number in the event the Lottery needs to contact you regarding your claim.
Mail winning tickets to:

Rhode Island Lottery
1425 Pontiac Avenue
Cranston, RI 02920
Attention: Validations Department
Please call the Lottery at 1-401-463-6500 with any questions.
Thank you for playing the Rhode Island Lottery!